Opportunities… All around you :)
---
There are lots of opportunities out there in the domain investment and development business, you just gotta know where to look. Most importantly you have to look hard enough! So lets take these three domains as an example: DressPants.net, ReggaetonMusic.net and GlovesShop.com
The first domain DressPants.net I acquired just last month for a few hundred bucks. The domain was listed for sale at a popular domain forum. It wasn't the first time that it was offered for sale… Actually it's been offered there since 2009! Took almost a year to sell.
Most domainers wouldn't make much of it and pass because what are you going to do with it really, only sell dress pants if it is even developed? Those things are usually pretty cheap… Doesn't sound like it has too much going for it! Forget about it??

Yes, well… That is what we did actually. The domain was developed as an affiliate based store selling dress pants for men, women, kids, etc. We have 1000s of items available on the site right now and will be adding more slowly but surely.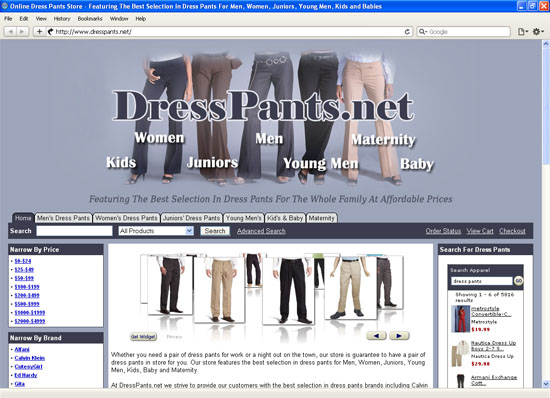 As an experienced internet marketer and developer, when I saw the DressPants.net domain for sale I immediately saw plenty of opportunities. The domain was priced fairly, so I pulled the trigger. Sold sold sold!
What's so good about it though, you might ask? Well… Let me try to explain this the simplest way possible. Usually a buyer will purchase not just one pair of dress pants but multiple dress pants, so even domains that are descriptive of certain items that are priced below $50, $40 or even $10 can be valuable.. Extremely valuable!
We setup the domain DressPants.net literally just two weeks ago and it's already generated close to a dozen orders because it's getting search engine traffic… Average price of an order? Around $140. We usually get a commission of 6% – 8% off of each sale so we pocket $10 – $15.
Buyers have ordered dress pants, dress shirts, dress socks, etc. One guy even ordered 8 pairs of a designer brand dress pant' which were $70/each. So basically, it all adds up nicely. Of course not every order is going to be for hundreds of dollars but every now and then… There will be without a doubt. It's all a numbers game and you gotta think about the volume too… Not just item prices.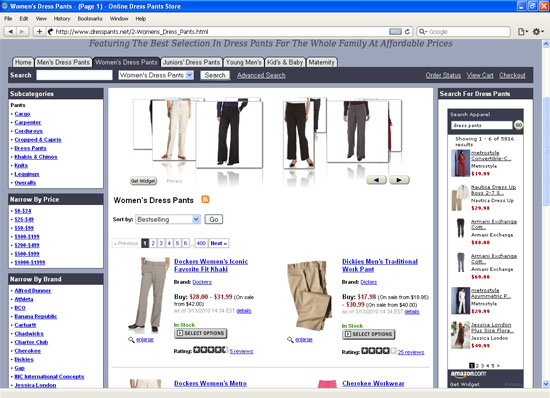 That is basically what made the DressPants.net a good investment at a few hundred bucks and the perfect domain to setup a store on. There are over 5,000,000 searches performed every year that are "dress pants" related according to the Google adwords keyword tool.
People who usually search for dress pants are looking to buy them.. What other reason could there be to search for dress pants if you know what I mean? So the conversion rates are really great. We got 86 total visitors so far and basically 1 out of 10 of them have made a purchase.
So what about the other two domains, ReggaetonMusic.net and GlovesShop.com ? It's the same deal really.. I just wanted to explain things in detail right off the bat that opportunities do exist even for these types of domains which are quite often overlooked by 99% of all domainers.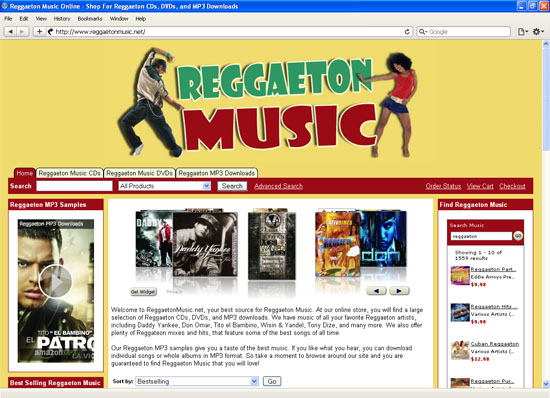 Reggaeton Music cd's and dvd's usually cost under $10. Mp3 downloads cost under $1 but when you get somebody who is really into this stuff, they go crazy at it. It's typical that somebody will spend $50 or more on music cd's and dvd's.
In order to be able to cross sell somebody all this stuff, you gotta have a very good product inventory and that we do… Our product catalog is powered by Amazon, which literally has everything. Visitors can find just about everything, in one convenient location.
Just think about it for a second.. When you go to the mall or a big specialty store, if possible you will try to get all of your shopping done at one place if they have what you need and at a decent price. It's a lot easier and very convenient. Same deal with online shopping

I paid less than $100 for the ReggaetonMusic.net domain once I spotted it on the daily DomainStryker.com auctions list and it was another great investment. You just gotta love domains that are descriptive of an entire category. Right?? Don't you agree?! They do have a lot of potential. Trust me on this!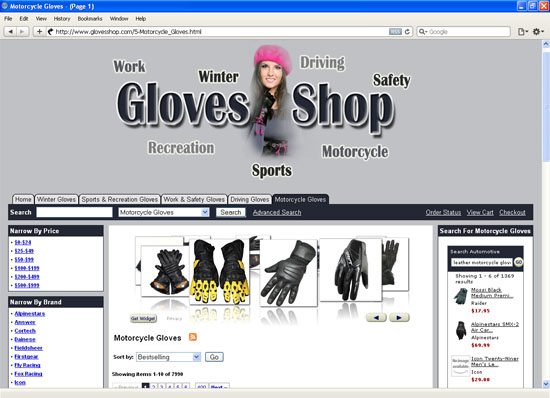 Now what about that GlovesShop.com ??! A website selling gloves or something? What the… Yep. You got it! I purchased this one for less than $50 once again at a domain forum just last month. We immediately setup a website on it selling gloves. About a dozen types of gloves!
This is a great domain which I like and I immediately jumped all over it because there are many type of gloves and not all of them are cheap. Not all of them cost $10 – $20. There are motorcycle gloves that cost easily $100 – $200 and some that cost hundreds of dollars too. Same deal with work and safety gloves which are quite expensive.
At a first glance you would think, there are winter gloves, which are cheap… And is the most common use for gloves, so GlovesShop.com doesn't sound like it could be a great money maker but rest assured… It can be and it will be!
You have to look hard enough. There are opportunities all around you.. Gotta do the research! If you look under the sports and recreation section, we have 1000s of all kinds of gloves. Baseball, soccer, golf, football, paintball, boxing, etc.
All in all, there are probably close to 20,000 different gloves on sale at GlovesShop.com. If somebody is searching for gloves, and they end up at our site.. Don't you think that chances are pretty good that they will buy something? We are practically your one stop shop for everything gloves related…

If you look up "gloves" in the Google adwords keyword tool, there are 9,000,000 searches related to gloves performed each and every month. That is right… 9 million! Makes for over 100,000,000 every year. So now that you've learned more about the types of gloves that there are, and the search numbers… Don't you think GlovesShop.com is a worthy domain??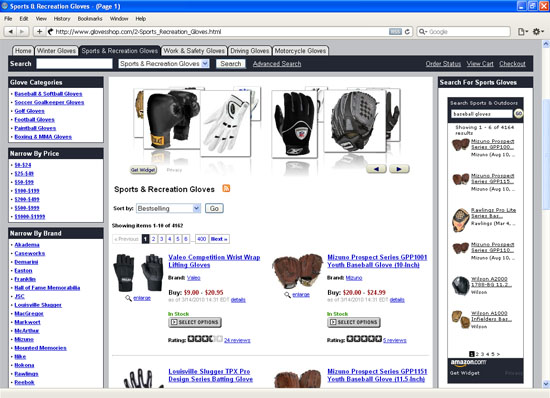 So my friends, take some time and do your research properly. Domains aren't just keywords with an extension. They describe actual business opportunities. It is up-to you to uncover all those opportunities. Load up your favorite keyword analysis tools… Do that market research and you too can secure great domain investments for a few hundred bucks or even under $50!
I've been doing this for many years, buying + developing, and there is always more and more opportunities out there and some pretty easy $$$ to be had.. Really no shortage of good keyword domains that can become profitable almost overnight if put to use the right way. Good luck!